History of the Half Moon Motel & Cottages
Half Moon Tea Room

In the early 1930's, Robert 'Bob' Wagner and Carleton C. Williams constructed the Half Moon Tea Room – a restaurant, snack bar, bowling alley, and cabins – on the Lakeside Avenue site of the former hotel. They had purchased the empty land in mid-March, 1931, from the Minor Robinson estate.
Bob Wagner already had experience in providing accommodations for visitors, as he owned the nearby Hotel Samoset on Centenary Avenue, and the original Half Moon Tea Room, which had been located further up on Lakeside Avenue, on the site of what was later to become the 1936 Weirs Beach fire station. In fact, Mr. Wagner recycled the original 1927 Half Moon Tea Room building. In late 1931, he moved it down Lakeside Avenue to his new property. In 1932 he added the new Half Moon Tea Room to the left of the old building. Later, he added the bowling alleys to the right.
At some point, Mr. Wagner seems to have become the sole owner of the Half Moon property.
Howard Ballou
In 1935, local postmaster Howard Ballou purchased the Half Moon and Hotel Samoset properties from Bob Wagner. Ballou quickly sold the Hotel Samoset, but he held onto the Half Moon for many years. Eventually, he renamed the business after himself. However, old habits die hard; the general public continued to refer to the business as "the Half Moon", and when Sidney Ames purchased the restaurant, snack bar, and bowling alley half of the property in 1950, the old name was back. Howard Ballou returned to the Postal Service, where he was Postmaster of Laconia from February 28, 1953, until August 14,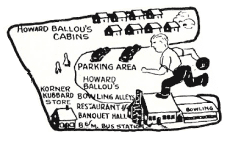 1970.
In December of 1956, Sidney Ames purchased the cabin half of the property from Howard Ballou.

Family owned and operated for 50 years, the Ames family continues to offer the same friendly service and reasonable rates that generations of tourists have enjoyed, while adding all the modern conveniences the present-day traveler expects.